The Great Gatsby Review
Adapting and luxuriating a classic novel, Luhrmann stepped up to the plate to knock out a literary classic hoping to make a classic film at the same time. Originally intended for a December release, the delayed, 3D post-converted modernisation of the book has now been released after premiering in Cannes – although it was already out in America. This change from an awards film to a summer blockbuster is a bizarre one and one that's understandable after watching it. It isn't an awards-worthy film, it's barely memorable; it's in a funk that never truly gets over the hump of converting lyrical literature into a more visual affair. Although it fills these gaps with nicely edited, scripted words flying up on to the screen and people talking quite poetically, it all feels like it works as a book but not a film.
Deadfall Review
After winning an Oscar for best foreign film with The Counterfeiters, Stefan Ruzowitzky has turned to his first American project, Deadfall, bringing together an impressive cast. Entrenched in snowy landscapes, Ruzowitzky has surrounded the audience in a bitter cold atmosphere that's as claustrophobic as it is endless with blizzards freezing our characters. Thanks to the cold atmosphere and the outlandish characters there's something incredibly interesting here to toy with but being marketed as a straight out action-thriller is the wrong marketing ploy. It's also the wrong way to take the film because there's a much more interesting subject matter to be chiseled at and those are the characters. There's a potential avalanche of emotions, disturbing pasts and real people, even in its exaggerated form.
Dragon Review
Acting usually comes down to moments of believability, ensuring that the emotions that should be portrayed are done so well enough to impact the audience. What usually slips through the cracks of acting is the great pain an actor might have to go through when performing stunts, choreography or any other important things that helps bring the character to life. Martial art performances usually get ignored or expected when people forget to appreciate the real art of the fight scenes. Dragon comes alive because of these scenes. The actors deserve a lot of credit for bringing their characters to life thanks to real moments of emotion and great fluid fights that arc with our main character.
Interview with Director Andy Wilton
Indie productions have shifted into overdrive with the ease that they can now be created. Most only aspire to be short films with a budget of £1000 but director Andy Wilton stayed bold and true with his idea to create his first feature-length Behind the Scenes of Total Hell. In fact, he's created two as Total Hell – the Jamie Gunn horror 'masterpiece' the mockumentary is based around – is available as a DVD extra along on www.btsoth.co.uk which has a  lot more information and merchandise available too.
Chatting to Andy Wilton has painted the picture of an honest, down-to-earth guy with a penchant for filmmaking. Always open to chat but committed to driving his film out there for it to be seen, not for financial gain, his commitment to filmmaking  remains despite how long it has taken the film to get to the distribution stage. Instead of distributing through the normal mediums, Andy has decided to push it through YouTube to combat piracy – a bold, interesting decision that he happily clarifies.
Putting this out on YouTube proves Andy makes films because of his love to. I chatted with Andy for a while to find out more about the budding director about the release of his film finally, his influences and his thoughts on the final product.
The ABCs of Death Review
Essentially, reviewing The ABCs of Death is to review 26 shorts related to death, linked only by the fact that each segment begins with one letter in the alphabet. There's no plot, you are solely there to see 26 different ways to die. From the simple G for Gravity to the weird H for Hydro-Electric Diffusion to the utterly messed up Z for Zetsumetsu, to the insensitive M for Miscarriage. Completely inconsistent and incoherent, it ranges from great to utterly terrible. It's one big two-hour messy mish-mash of ideas done for $5000 each. Its disparity is what's annoying as well as ranging from serious to parody too often with too short of a time to set any real atmosphere. It's an empty viewing of laughing with and laughing at, wincing with and wincing at.
Evil Dead 2 Blu-ray Review
With Fede Alvarez's Evil Dead remake now out in cinema it seems a fine time for the sequel to Raimi's original cult classic to be given the Blu-ray treatment. The film is actually a remake. More money and fewer production problems result a much scarier, camp follow-up that some may say even surpasses the original. Bruce Campbell's Ash is a legendary cult character and this sequel is the reason why. The comedic elements implanted in Ash are far more apparent here, played to emanate much more evidently than before. They've managed to improve on the aspects of the first by amping it up to eleven, thanks partly to a much bigger budget. As everything is set up for moments of horror, Ash is locked-and-loaded to fight back against the Deadites attacking the cabin; chainsaw in one hand, shotgun on the other. Groovy!
Behind the Scenes of Total Hell Review
This is a mockumentary much like the most famous uses of the style – The Office, Arrested Development and so on – but applies it to the creation of a separate film. It takes us behind the scenes of a horror production (Total Hell) and shows all of the problems of filmmaking, financing and distribution in comedy form. Much of the story came from real life problems in production where writer-director Andy Wilton gained influence from; not letting it dampen his spirits. This film has taken years to get distributed – much like the dilemma faced by Jamie Gunn – and is now finally scheduled for release on the 22nd April on YouTube. Andy Wilton's reason for this was so he wouldn't have to contend with piracy because he had embraced its easy service.
TO READ THE REST OF THE REVIEW AND WATCH THE FILM CLICK HERE
Interview with Director Paul Hyett
Paul Hyett has been involved in the British film industry for quite some time as a bit of an unsung hero of horror make-up. Now he's got the chance to delve further into the business with his directorial debut The Seasoning House. The interview was only supposed go on for roughly ten minutes but in the end turned into a half hour conversation about our mutual cinephilia. Continuously open to chat about his own films, influences and other recent horror films; Hyett even spoke to us about his position on horror remakes.
One of the main topics that came up was his directorial debut of course which is being theatrically released on June 28th but opened last year's FrightFest to rave reviews. Critics have been complimenting its creepiness, claustrophobia and cynicism as the highlights. Below the man reveals all.
FOR PART ONE OF THE INTERVIEW CLICK HERE
Give Me the Banjo DVD Review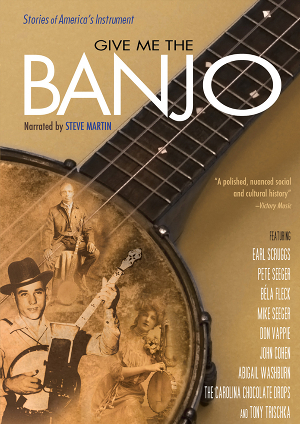 A niche title suggests only lovers of the banjo will enjoy this documentary which is narrated by Steve Martin. Unfortunately that's exactly what it is. That's not to say that the documentary is a failure, it's packed with information from respectable people with a kicking soundtrack spanning from the 1920s to Steve Martin in 2012 but the information feels irrelevant to banjo-unenthusiasts. All the information seems lost to those who don't already have an interest in the instrument. A shame considering documentaries can strike up such unknown desires that this one falls short of the mark despite all of its attempts. It's a rewarding documentary but only if you care about the history of the banjo. That may be seen as stating the obvious but documentaries have piqued interests in people who don't share the love before the viewing.
Elizabeth Blackmore Interview
In the next few days, Evil Dead gets a chance to scare UK cinema goers following a box office bust in the States and a buzz from mostly positive critics. Now, it's Britain's turn to be possessed. In preparation for its release we spoke to Elizabeth Blackmore who plays Natalie in this remake-reboot horror flick. We spoke to her about Evil Dead, her favourite flavour of blood and, despite starring in this gore fest,  how she can't bear to even watch horror films.