The Retrospective: Videodrome.

Videodrome
Director: David Cronenberg
Release Date: 23rd November 1983
Starring: James Woods, Deborah Harry, Sonja Smits, Peter Dvorsky and Jack Creley.
Censorship may be the thing that plagues the world of media currently. The internet is the only exception to this but that's under threat as well. Videodrome was made before the inception of the internet yet its relevance can be transferred to today and the struggle to keep the internet untainted. It fights against the censorship of the world with one of the monologues uttered from the funnily named Professor Brian O'Blivion (Jack Creley), claiming that TV has now become more real than what we'd call reality: "The retina of the TV is the mind's eye." Only because television in the Videodrome universe is uncensored, perverse at times. We live in a sheltered reality considering we stop ourselves from being real by censoring ourselves, ignoring primal thoughts to strive to be civilised to stop all counter-productive measures – at least things that are deemed counter-productive, wrongly.
The Retrospective: True Romance.
True Romance
Director: Tony Scott
15th October 1993
Certificate: 18
Starring: Christian Slater, Patricia Arquette, Dennis Hopper, Christopher Walken, Val Kilmer, Brad Pitt, Saul Rubinek, Bronson Pinchot, Tom Sizemore, Chris Penn, Michael Rappaport, Samuel L. Jackson and Michael Beach

This True Romance retrospective has come about from unfortunate circumstances and that is because that we have lost the great Tony Scott to tragedy for unknown reasons. We wish all his family and friends the best and in his honour, it feels fitting to review what could be his greatest film – though there are lot of choices for that. True Romance is a special film and one which manages to incorporate the many different genres that it's hard to categorise it. There's action, comedy, drama and romance which is all subject to a thrilling ride in the crime world. It's stylish to its decade being typically '90s with its colours, music and fashion; in fact, it's still stylish today. This could very well be his masterpiece. It's a fitting tribute to celebrate the life of an innovative director that changed films forever.
The Retrospective: Hot Rod.

Hot Rod
Director: Akiva Schaffer
Release Date: 28th September 2007
Certificate: 12A
Starring: Andy Samberg, Isla Fisher, Jorma Taccone, Bill Hader, Danny McBride, Sissy Spacek, Ian McShane and Will Arnett.
Hot Rod, the feature debut from, now, SNL veterans and mock-rap enthusiasts The Lonely Island is one to watch and always will be if you're into stupid humour. In fact, the opening scene sums up the film and the inherent laziness of all the characters. "Did you reinforce the ramp?" Obvious answer to this is no and shows the ambition and hopefulness of these characters that you'll soon be sharing a painful 87 minutes with. This is The Lonely Island's film; Andy Samberg and Jorma Taccone are the leads while Akiva Schaffer goes behind the camera to string it all together. This was their feature-length debut and it had to bring together their inherent silliness and make it enjoyable for a full film; a challenge to continue on from their shorts but they succeeded.
The Retrospective: Batman Begins.
Batman Begins
Director: Christopher Nolan
Release Date: 16th June 2005
Certificate: 12
Starring: Christian Bale, Michael Caine, Liam Neeson, Katie Holmes, Cillian Murphy, Gary Oldman, Tom Wilkinson, Ken Watanabe and Rutger Hauer.
This is it: the beginning of a saga, a legacy. Something that'll be argued to be the best trilogy of all time. Arguably the best comic adaptation too. This is the beginning of it being brought to the masses and making it enjoyable for all, accessible for everyone, instead of just for nerds and geeks. They bring a whole new dimension to comics and a whole lot of new people. They're now an in thing with The Avengers coming out this year and smashing box office records to gross an inordinate amount of money. The films beforehand were just trailers to the eventual build-up of that. Now Marvel may have all this success but DC have Batman and with Nolan at the helm, he brings it to life in a gritty and realistic way. The battle of the box office for The Dark Knight Rises begins soon. Marvel vs. DC just like usual.
The Retrospective: Rope.

Director: Alfred Hitchcock
Release Date: 28th of August 1948
Certificate: PG
Starring: John Dall, Farley Granger, James Stewart, Edith Evanson and Constance Collier.
Hitchcock is the master of suspense and all of his films have this element. There's one film that isn't mentioned as much as the rest. Almost forgotten amongst the likes of Psycho, Rear Window, Vertigo, Rebecca, Dial M for Murder and North by Northwest. Though they are all great, Rope is masterfully done and seldom seen; a film that is just an experiment at heart. It was Hitchcock's first colour film and he used that to effect with a flashing neon light that illuminates the right side of the room. The film is an experiment about an experiment: committing the most perfect murder; so perfect that it's an art form.
The Retrospective: John Carpenter's The Thing.
John Carpenter's The Thing
Director: John Carpenter.
Release Date: 26th of August 1982.
Certificate: 18.
Starring: Kurt Russell, Keith David, Wilford Brimley, T.K. Carter, David Clennon, Richard Dysart, Donald Moffat and Richard Masur.
John Carpenter is famous for his contributions to horror. He brought us the infamous Michael Myers with his horrifying Halloween. One of his main contributions, though, is his claustrophobic horror, The Thing. He clearly had an unalterable image of how Christian Nyby and Howard Hawks's 1951 film should've been done. It's a timeless horror; the real power comes from the paranoia and that's what's focused on. Keeping it a subzero horror, miles from everyone and everything. Or so you think – the only thing you're far away from is help. He plays on this premise of something that may as well be invisible because it blends in and mimics others. It plays on the inescapable environment and turning the station into a paranoid hell. The people you've spent endless days with are now no longer who they seem or even what they seem. This thought tinkers in their head, destroying everything they used to know.
The Retrospective: Natural Born Killers.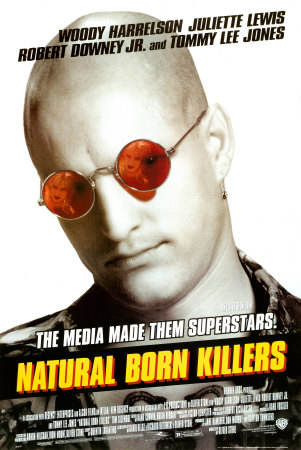 Director: Oliver Stone.
Release Date: 24th of February 1994.
Certificate: 18.
Starring: Woody Harrelson, Juilette Lewis, Robert Downey Jr., Tom Sizemore and Tommy Lee Jones.
SPOILER ALERT: This retrospective look at Natural Born Killers contains spoilers, if you have not seen the film we recommend viewing first before reading.
Oliver Stone has never had a very normal direction style. It's easy to tell from Platoon – another classic he has made – that he borders on the eccentric; making things a little incoherent at times too. He does what Baz Luhrmann tries – and fails – to do. He does eccentricity like no other and this is probably the pinnacle for him. There's only one word to describe it: surreal. It could be surrealism but it's probably too lucid and structured for that but it's unstable in its direction style. The characters are unstable but the physical camerawork is unstable too – reflecting the characters. It dashes from colour to black and white for moments as the camera waves around, tilting as if on a rhythmically fluid yet rough sea. It's bizarre.
The Retrospective: Fight Club.
Recently I revisited my favourite film of all time. Twice. Want to know why it's so good? Read the link below.
To read my retrospective review of one of the greatest films of all time click here.