My 2012 Oscars.
2012 Oscars: My Nominations.
These are my nominations and what I think deserve to be nominated and win. The Oscars are never fair (The Shawshank Redemption didn't win Best Picture and Hitchcock never won an Oscar etc.) so these could be a take on the Kermodes and are from films that I've seen and by the power of deduction from what has been deserved from the past and so on. So these are what I think should win but not what necessarily win - if anyone cares.
The my deserved winners are in bold.
Best Picture:
Drive.
The Tree of Life.
Midnight in Paris.
The Descendants.
Shame.
Hugo.
Moneyball.
The Girl with the Dragon Tattoo.
The Artist.
Best Actor:
Ryan Gosling for Drive.
Jean Dujardin for The Artist.
George Clooney for The Descendants.
Brad Pitt for Moneyball.
Gary Oldman for Tinker Tailor Soldier Spy.
Runner-up: Joseph Gordon-Levitt for 50/50 and Michael Fassbender for Shame.
Best Actress:
Rooney Mara for The Girl with the Dragon Tattoo.
Michelle Williams for My Week with Marilyn.
Meryl Streep for The Iron Lady.
Charlotte Gainsbourgh for Melancholia.
Charlize Theron for Bad Adult.
Runner-up: Elizabeth Olsen for Martha Marcy May Marlene.
Best Supporting Actor:
Nick Nolte for Warrior.
Albert Brooks for Drive.
Hunter McCracken for The Tree of Life.
Kenneth Branagh for My Week with Marilyn.
Jonah Hill for Moneyball.
Best Supporting Actress:
Bérénice Bejo for The Artist.
Jessica Chastain for The Help.
Carey Mulligan for Shame/Drive.
Shailene Woodley for The Descendants.
Octavia Spencer for The Help.
Cinematography:
The Artist.
The Tree of Life.
Drive.
The Girl with the Dragon Tattoo.
Hugo.
Best director:
Michael Hazanivicius for The Artist.
David Fincher for The Girl with the Dragon Tattoo.
Nicolas Winding Refn for Drive.
Martin Scorsese for Hugo.
Terrence Malick for The Tree of Life.
Best original score:
Ludovic Bource for The Artist.
Cliff Martinez for Drive.
Trent Reznor and Atticus Ross for The Girl with the Dragon Tattoo.
Best adapted screenplay:
The Descendants.
The Girl with the Dragon Tattoo.
Drive.
Hugo.
Tinker Tailor Soldier Spy.
Best original screenplay:
Midnight in Paris.
The Artist.
A Separation.
Rampart.
Martha Marcy May Marlene.  
Best Documentary:
Senna – no argument.
My Top 10 Films of 2011.
It was a mixed bag in 2011 but a year which installed a lot more confidence than the rather disappointing 2010. The lows of the year were stuff like the insult that was Beastly, the time-slowing and unfunny Just Go With It, the llama faced return of topless Taylor Lautner in Abduction and Twilight as well as Nicolas Cage having his worst year in film possibly ever. It's difficult to narrow it down to just my favourite ten of the year. A challenge which I accepted and will be heavily criticised.
Note: Due to cinema restrictions I did not get to see some films like Tinker Tailor Soldier Spy, Hugo 3D, Moneyball, The Thing and Senna. A crime which I will soon rectify with numerous amounts of trips to the cinema and when my Amazon order is delivered.
10. Source Code.
Source Code is Duncan Jones's follow up to his directorial debut, Moon, and is cementing himself as a great sci-fi director. Source Code follows a soldier who wakes up as someone else and has to repeat the same minutes until he finds the bomber. What seems like a straight-forward sci-fi, action thriller turns into something which is very emotional and meshes in drama and romance but not as an after-thought. A truly great film with Michelle Monaghan hopefully rising to fame.
★★★★
9. Midnight in Paris.
Woody Allen is a consistent director and although this best films are from the '70s-'80s, this film may compete with them. Midnight in Paris is a romantic comedy about an engaged couple who tag along to Paris. As Owen Wilson travels back in time to his golden age and meets some of the greatest authors which act as a muse to his own story leads him to discover himself and his current lifestyle. It's light-hearted and its message is clear but is a thoroughly enjoyable film that'll leave you smiling from the story and the beauty of Paris and how wonderfully it was shot and edited. 
★★★★
8. The Tree of Life.
Terrence Malick is patient with making his films and that's why this one took so long to make with its beautiful cinematography. It establishes that films are sometimes regarded as a lesser expression of art and intellect and this proves the opposite as a thought-provoking piece of magnificence. It's the Marmite of the film world completely dividing opinions on whether it's beautiful or pretentious but it is important for Malick as it is based on his past. It also features Brad Pitt doing another timeless performance, Jessica Chastain breaking through in one of her many films and three child actors that should be stars in the future. Full review here.
★★★★
7. 50/50.
The words "cancer" and "comedy" don't really go hand in hand. Usually, anyway. It seems that 50/50 is the exception to the rule though by being one of the funniest films of the year but still keeps it emotional. It's written by Will Reiser and is semi-autobiographical when he was diagnosed with cancer. Joseph Gordon-Levitt plays the part of Adam, the young-man diagnosed with rare form of cancer and his struggle through chemotherapy and to keep his spirits up. Seth Rogen plays the part of the best friend perfectly who tries to ignore the realisation that his buddy may not be around for much longer. Very funny yet hard to watch at times. 
★★★★★
6. Warrior.
This didn't get the box-office that it thoroughly deserved. Even with a 12A certificate, you wouldn't be able to tell thanks to the brutal fight scenes and great direction of Gavin O'Connor. It focuses on introvert fighting machine Tommy (Tom Hardy) and disciplined family-man Brendan (Joel Edgerton) Conlon who enter an MMA tournament called SPARTA which reunites Tommy and his alcoholic father (Nick Nolte) who is in search of redemption. A film that balances action with drama (in and out of the ring) which divides your attention between the main characters. A true great. For my full review, click here. ★★★★★
5. Blue Valentine.
This counts as a 2011 film because it wasn't released until the 14th of January. It's a story of two different time periods of a relationship and it doesn't focus on how it got there, leaving it for you to imagine yourself what happened in between. An emotional drama that is one of Ryan Gosling's brilliant films of the year (Drive, Crazy Stupid Love, The Ides of March) cementing himself as one of the best actors of the new generation. Michelle Williams earned herself an Oscar nomination for her performance too and you can see why. Understated and under-appreciated with its perfect dialogue and hard-hitting realism. 
★★★★★
4. Super 8.
A perfect nostalgic film which throws back to Spielberg in the '80s - using his producer credentials to influence probably. The year is 1979 and the story focuses on some pre-teens making a film when they witness a train crash which leads to some mysterious events that intrigue and scare a tiny town. What you have is two ideas melted into one with children growing up in a small town and a monster-mystery all-in-one. It works perfectly but it can lead to complicated feelings about how it might have been better as two films. It's entertaining and the children - if they avoid drugs and bad choices - should grow to be stars in their own right. Full review here.
★★★★★
3. Drive.
It's Empire's and Total Film's film of the year and it's easy to see why. Ryan Gosling plays a driver who's a stunt driver by day and a wheelman by night. There's a lot of reasons why it works and one is the performance of Gosling as well as his brilliant supporting cast members. A film whose supporters are Carey Mulligan, Oscar Isaac, Albert Brookes, Bryan Cranston, Ron Perlman and Christina Hendricks proves how special it is. Then there's the direction of Nicholas Winding Refn that shoots this in a retro, '80s throwback, making this cityscape seen in a way never before. The soundtrack is also one of the best of the year. Unmissable.
★★★★★
2. The Girl with the Dragon Tattoo.
David Fincher does it again and although people may disagree with an English remake of this it works. Many expected it to be dumbed down and numbed a little by being more blasé for audiences but it was graphic and it was raw and had this amazing magnetism in this murder mystery, action, thriller come drama. It is a mish-mash of genres and that's one thing Fincher is perfect at. Journalist Mikael Blomkvist (Daniel Craig) is hired by a head of a family and empire to find a woman who has been missing for forty years. In his aid, he acquires a girl who is trivial and unorthodox, Lisbeth Salander (Rooney Mara) and what unravels is a mystery so intense that time'll disappear.
★★★★★
My number one film of the 2011 is…
There are no words to describe this film other than perfect. It balances a lot of issues and a lot of problems - including its own problem of actually getting made. Micky Ward (Mark Wahlberg) is in the shadow of his crack-addicted brother Dicky Eklund (Christian Bale) and his rise to becoming a professional boxer. It has family problems, dysfunction, romance, addiction and many other great things and it's all balanced perfectly by the direction and the perfect cast of Mark Wahlberg, Christian Bale, Amy Adams and Melissa Leo. It's just overwhelming with the storyline; the underdog story is tried and tested but it feels authentic. You'll connect to the characters, feeling like a lost sibling which would be easy in that family. My full review is here.

★★★★★
Honourable mentions: Crazy Stupid Love, Tyrannosaur, We Need to Talk About Kevin, Paul, Bridesmaids, Thor, Captain America: The First Avenger, Mission: Impossible - Ghost Protocol, 127 Hours and Black Swan.

The Tree of Life.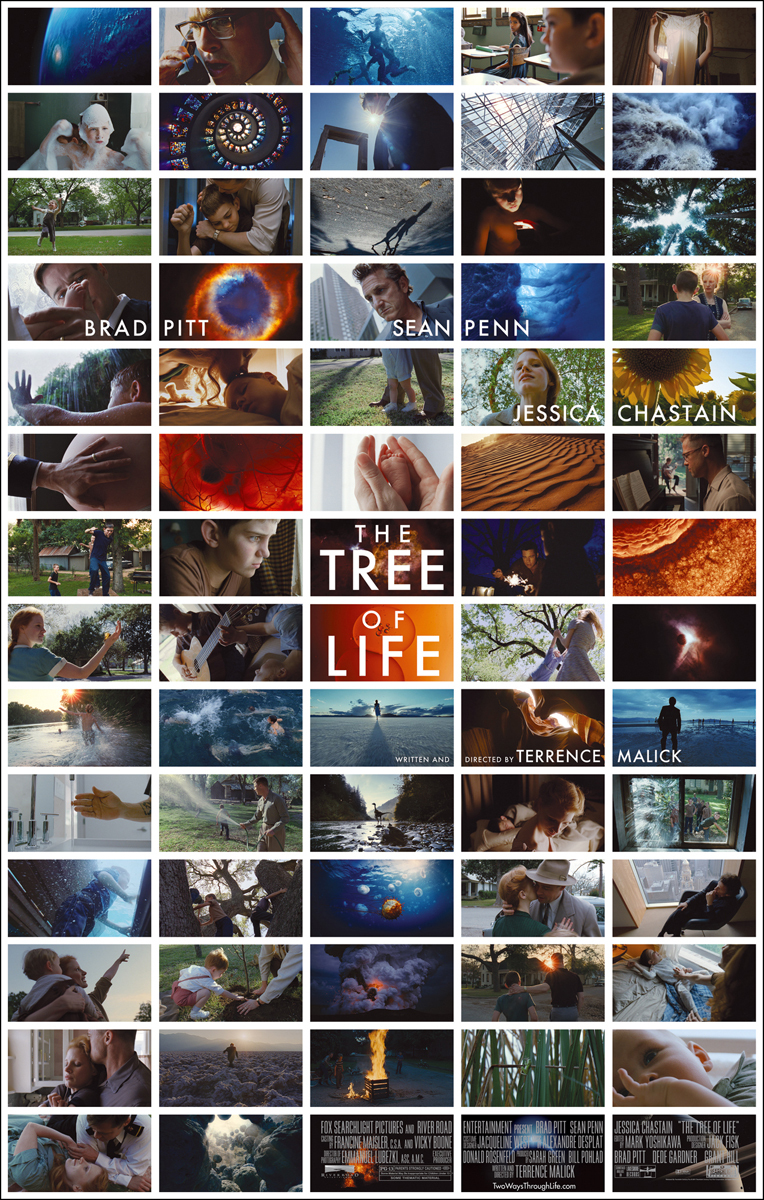 I'd just like to extend a gigantic middle finger to the final Harry Potter, Vue cinemas and the Odeon for not showing this film. Travelling to Cardiff was a fun day out but an inconvenience nonetheless. Although I did get to enjoy Cineworld and it's much better screens than Vue. Actually, it was a sort of blessing in disguise because this is a film looking for extreme artistic merit and an early Oscar nomination for its cinematography. In fact, it should win it. I read a review which said that if you took a screencap at any moment, it would be like a gorgeous and professional photograph and I concur. Terrence Malick is truly beautiful with his camera work, his colours, his depth, his composition, his everything. It's visually astounding.
Plot: The story centres around a family with three boys in the 1950s. The eldest son witnesses the loss of innocence.
The story centres around a middle-aged Jack who is recollecting his childhood from thinking about the death of his younger brother. It focusses on his relationships with his paradox-esque parents and the loss of innocence. It never specifies how he dies or who dies but that one of the brother dies at the young age of nineteen. This means that Jack as a crisis of faith and - in his middle-age - thinks about the the creation of life, the meaning of life and what is the best way to live life. It's also a philosophical take on when a child starts losing their naivety. 
The film starts in the 1960s-ish with the mother, Mrs O'Brien (Jessica Chastain), receiving the terrible news that one of her sons has died. We then see Jack (Sean Penn) as an architect in present day, thinking about the loss of his brother which triggers other thoughts. This then starts from the start - but not the start of the story; the literal start of everything. This is a scene that includes the creation of the universe, volcanoes spewing lava to create the land, waves crashing, the beginning of biological life and even dinosaurs. The CGI is near perfect and is visually appealing. In fact, the lighting, composition and depth of the images that you see are perfect. It is visual brilliance and magnificent to see - it's incredibly difficult to explain the beauty of it but it is pretty much irrelevant. It's an interesting idea and it's very well done but it is just pointless to the storyline and tells nothing of the story, nor is it even clear that Jack is actually thinking this; it just happens. It just came across as pretentious - the whispering narrative of random philosophical questions didn't help this case either. We are insignificant yet complex in an infinite universe.
Cast: Brad Pitt, Hunter McCracken, Laramie Eppler, Tye Sheridan Sean Penn and Jessica Chastain. Directed by Terrence Malick.
After the creation of the world comes the creation of the O'Brien family. Starting with the eldest son, Jack. It shows the playful and graceful relationship he develops with his mother and it also shows the distance between him and his father (Brad Pitt). Then, as they grow up, it shows the conflict and how the parents are a contradiction. Their mother tries to teach them grace and to be delicate, caring and forgiving while their father teaches them to be tenacious, strict and to not let their aspirations and dreams escape like his dream of being a musician did. It's this contradiction that leads to young Jack's (Hunter McCracken) complicated relationship with his father.
Nothing really happens in the film bar fluid shots and smooth transitions from scene to scene and at points, nothing occurs. Just like nothing truly happens in your childhood yet it sticks with you. The true power comes from how powerfully you can relate to it. The relationships, the mundaneness of your childhood, the mistakes, the redemption, the angst, the confusion, the jealousy and every emotion that you ever feel in your life. As it flows, you get whispered narrative from Jack (young and middle-aged), Mrs O'Brien and Mr O'Brien but the moments I enjoyed the most were the moments where there was real dialogue, a real scene and a real memory. They seemed heartfelt, realistic and hard for Jack to bear. There's a moment where Mr O'Brien asks if the family isn't good enough for Jack because he wanted company. Obviously, that's wrong considering Jack's close relationships with his two brothers, R.L. (Laramie Eppler - Brad Pitt's lovechild, he must be!) and Steve (Tye Sheridan).
The five editors of the film worked on it for three years, editing around 600,000 metres of film…wow. Source: Total Film.
His father believes in the idea of money and believes it's important. He is strict with the boys and offers stern guidelines so they can be successful when they're older. Brad Pitt plays it excellently as he is easily believable as strict but still maintains his likeability. He tells his children that he only does this because he loves them. He offers a hot and cold relationship where he shows seconds of affection with hugs and kisses but pushes them away at a safe distance so they know not to get comfortable with it. While the mother maintains the role of endless affection. Of course this is all subjective and all from the memories of Jack. Memories which he could have twisted and tampered with so we only have the biased view of a middle-aged man who has a complicated relationship with his father.
The origin of this film goes back to the late 1970s, when after Days of Heaven director Terrence Malick was working on a project named "Q", that would explore the origins of life on earth. He abandoned the project, but this film contains elements from it.
After the long childhood memories, we're dragged back to present day with a depressed Sean Penn who can't control his emotions. He even phones his father to apologise for something he said. Then, we're taken to the desert while Jack walks around looking for answers to his life questions and his faith troubles. He follows his younger self around this desert, through random doorways until he's led to a beach. This is where there's a sort of reunion of the family members from his childhood memories and all the characters we met along the way. It seems like an afterlife-esque reunion where everyone just walks and talks with each other.
The only true problems are the narrative and the pretentiousness of the film. The storytelling isn't very clear nor is it consistent and nor is anything relative but then again, maybe that's a metaphor for life and how everything isn't relative but it's still there. It's very subjective and highly relies on you to sit and think and ponder our existence and the meaning of each and every shot. Is that too much to expect of an audience? Lately, it probably is and that's why I feel so ashamed and sorry for the people who left the screening because they didn't understand the importance nor did they appreciate the artistic abilities of this creation. The whispy narrative and the generic "why?" questions don't raise much but the pictures evoke more. It's for those who don't just want to be entertained but want to be educated, have a real connection to the film or want to see things differently. It's got more to think about than Transformers 3 anyway. I'd recommend seeing it in the cinema because it's all in the details and the cinema can give you the clarity needed. At least watch it on Blu-Ray and not DVD. There's so much to say and I will watch it again.
★★★★(★)